What we did:
New Heights polled an international sample about their favorite hobbies and how often they were able to do them during Covid.
What we found:
Respondents relied on hobbies for mental wellness– but some found their activities failed to alleviate the stress of the pandemic.
Media use was the most popular activity.
Music and video streaming were the two most popular activities. Fitness training was the third most common activity. Interestingly, many respondents noted that they "never" do traditional hobby activities such as collecting (~55% never do), crafting (~45% never do), and art (~40% never do).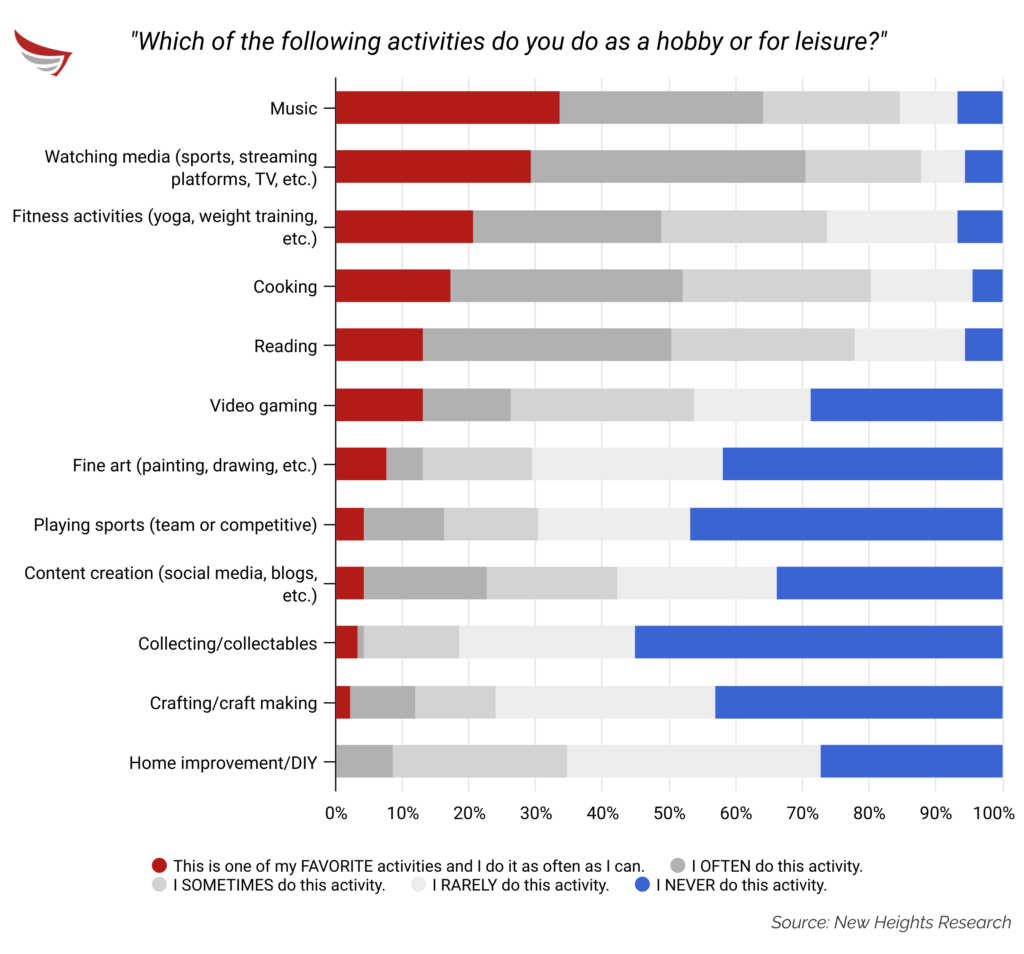 A small proportion of respondents (15%) felt their time spent on hobbies was unaffected by Covid.
Remaining respondents split equally between those who had more time for hobbies (43%) and those who had less time (42%).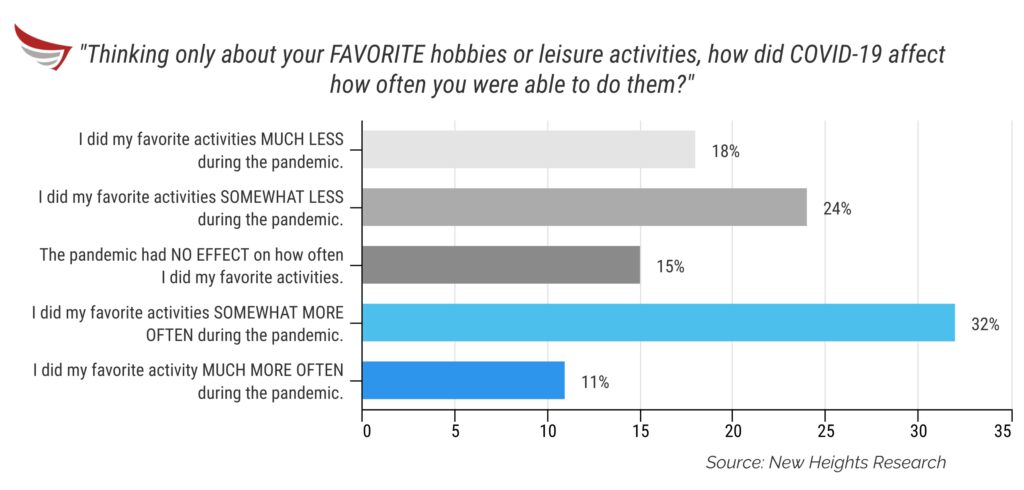 Mental wellbeing was the top reason for doing hobbies.
~90% of respondents cited mental wellbeing as a "highly important" or "moderately important" reason for their hobbies of choice. Socializing with others was the least important reason, characterizing hobbies as more solitary activities. "Most of the things I do, I need to be locked away from in-person interaction to do," said one respondent. "During the pandemic I've gotten that opportunity."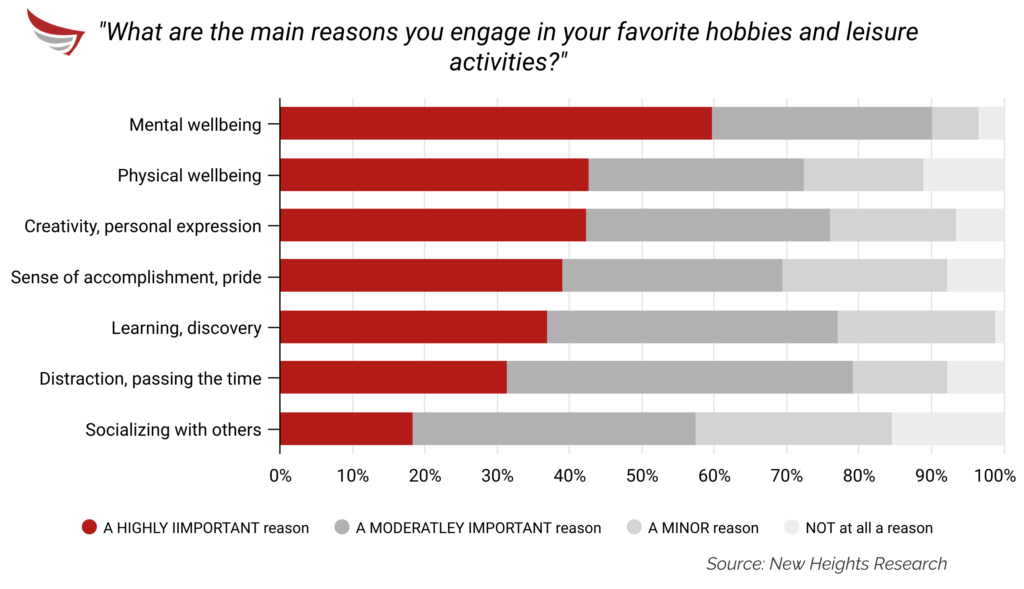 Surprisingly, frequent media use was considered unsatisfying by many.
Respondents described getting limited pleasure from media use. Some even felt it was detrimental to their state of mind.
"Generally I am bad at doing hobbies because of depression, which the pandemic has made worse," said a respondent. "I don't count watching media as an actual hobby, but this I do the same amount if not far more since the pandemic began because it's easiest to do."
"(My) mental health was challenged when trapped in the house. The motivation and energy to do anything was not there," noted another. "I cannot do my favorite sport – tennis – because of restrictions. I spend much more time doing nothing on my phone, also due to being mentally tired and wanting do to nothing."
People with active hobbies expect to do them more as restrictions end.
"I was a frequent gym-goer. I will be in there almost every day when they reopen," said a respondent.
The opposite was true for people with less active hobbies. "In my particular case, I don't leave my house too often, so my activities won't change much," said one respondent.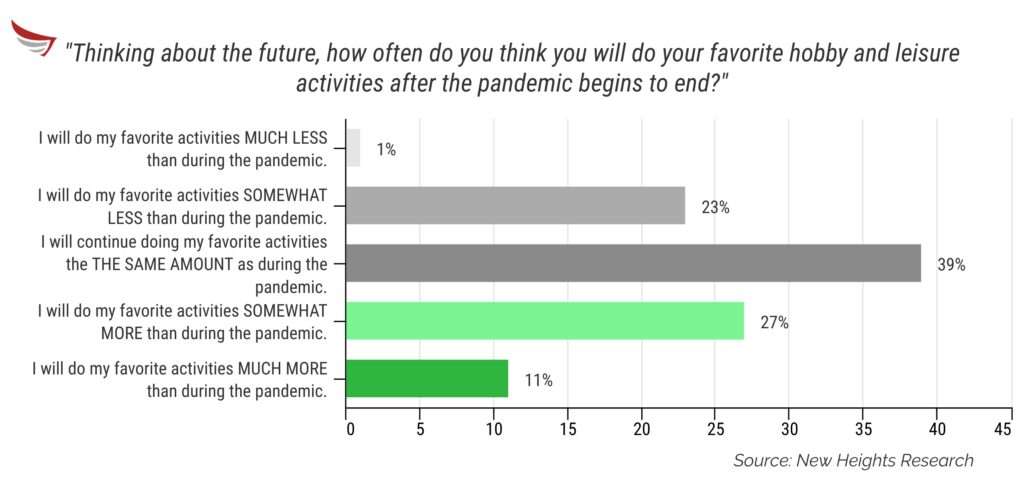 To learn more about opportunities within the hobby and leisure space, contact us!
Respondents represented 25 countries from around the world.
While our sample was global, most respondents were from the UK or USA. The sample skewed somewhat younger and female. Most participants had a college education, or higher.