Customer experience is a key to your business' growth. Satisfied customers spend more—up to 140% more, according to Harvard Business Review.
To keep those relationships healthy and to increase their lifetime value to your company, you need to know how well you're meeting customers' expectations, how their needs change with the market environment, and how likely they are to continue purchasing from you tomorrow.
There has never been a more important time for customer listening.
Introducing the New Heights CXS: Customer Experience (CX) designed to serve middle market companies.
Can your company answer these questions?
Understand at a glance where your company is providing value to your customers with the New Heights CXS Performance Map.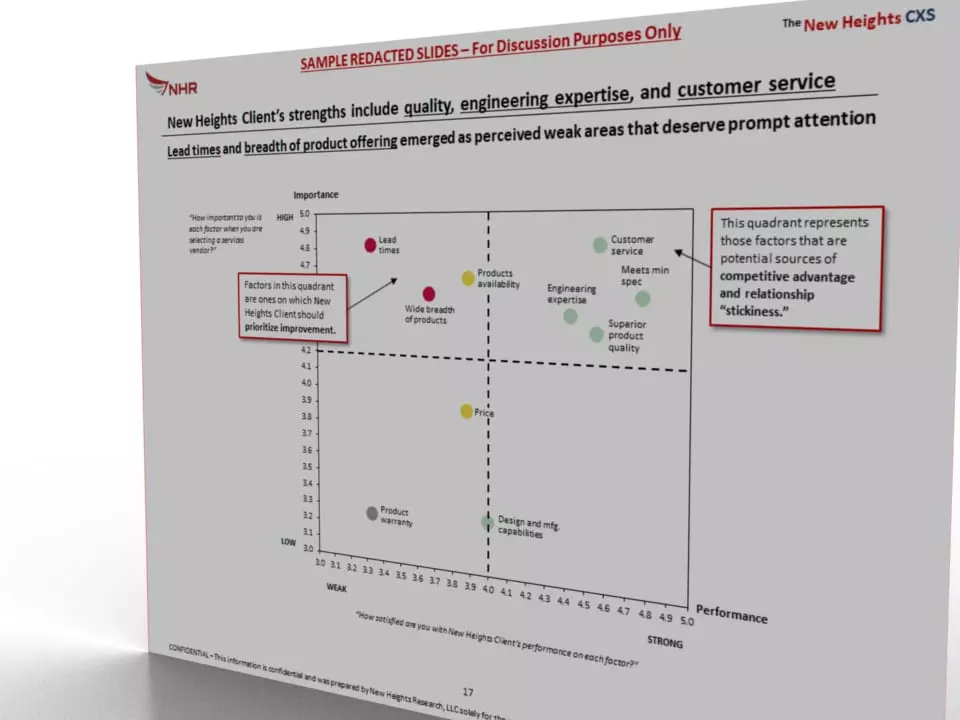 The CXS Performance Map captures and illustrates what is most critical to your customers—and how well your company delivers it to them. The Performance Map is a powerful tool for immediate, actionable insight into the strengths and weaknesses of your company in the minds of your customers, where your customers' needs are best being met, and where improvement opportunities may be found.
At the heart of the CXS are a handful of carefully selected measurement factors, refined over New Height's 15 years of market research. Taken together, these factors capture the essentials of your customers' needs and how well you are addressing them.
Seeing these results in a New Heights CXS report for the first time can be a powerful "a-ha!" moment for many. With regular CXS engagements, you can track how your value proposition changes over time, allowing you to plan and respond as needed.
Explore organic growth potential in your customer relationships, without marketing spin.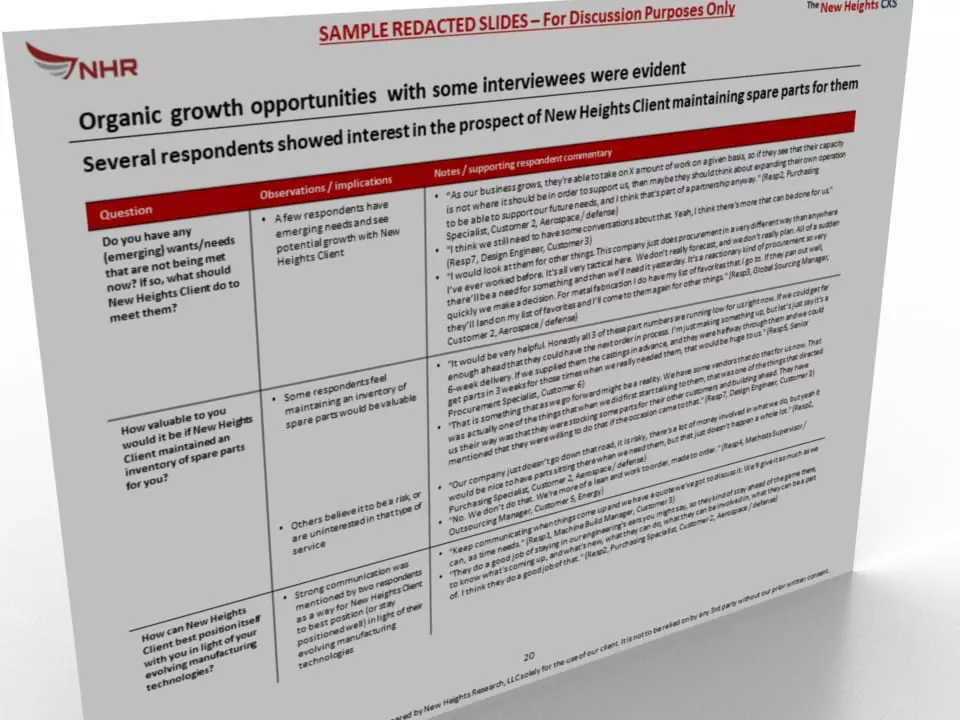 The CXS is purpose-built to capture customers' purchase outlook and to explore potential growth opportunities. Respondents may suggest new products or services that they cannot get from competitors or would prefer to buy from your company. In some cases, they may explain exactly how to earn a deeper share of their wallets.
Unlock the meaning of the survey data in the words of your customers, themselves.
The included Customer Interview Panel provides action-oriented context for interpreting the CXS survey data. Many key metrics for the health of your customer relationships—such as their likelihood of switching to a different vendor—can be difficult to interpret without direct commentary from your customers. The CXS Interview Panel provides context by integrating direct quotes from your customers. Additional interviews are available as a CXS Add-On, where richer context – and richer insight – is required.
Intuitive and actionable performance benchmarking powered by the New Heights Performance Satisfaction Index (PSI).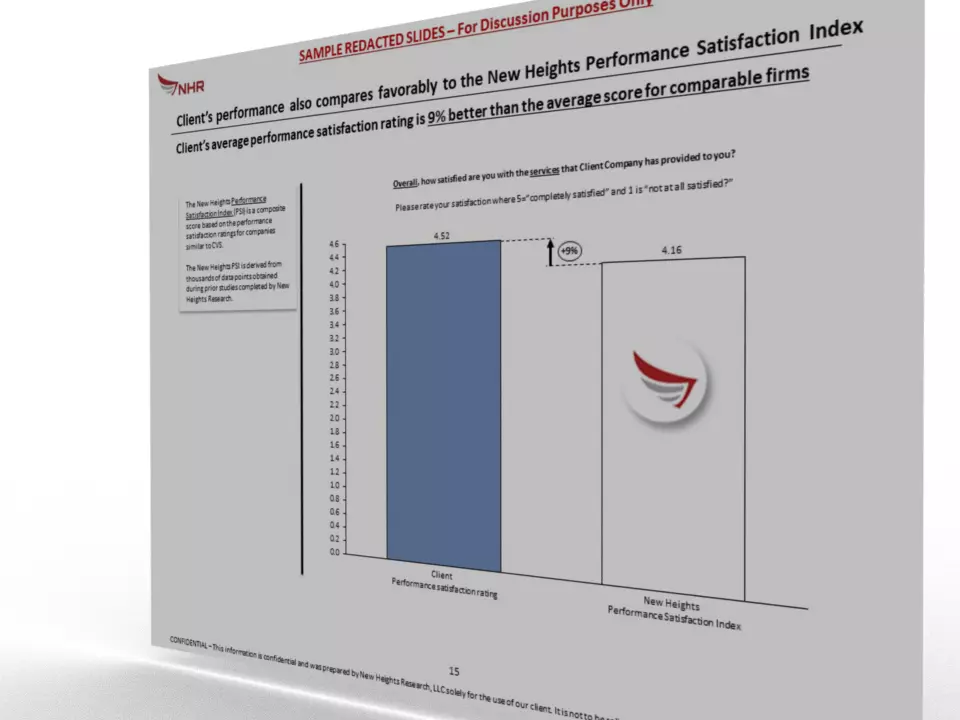 The New Heights Performance Satisfaction Index (PSI) is New Height's proprietary dataset, assembled from almost two decades of business research for the private equity and corporate communities. The PSI allows New Heights to identify which factors are most closely aligned with customer satisfaction, within specific business segments and across the entire field. By comparing your company's performance against the PSI, you can see at a glance how your company stacks up against the field.
The "stickiest" relationship is one where 1) your customers want to come back and 2) it's a challenge for them to switch to a competitor.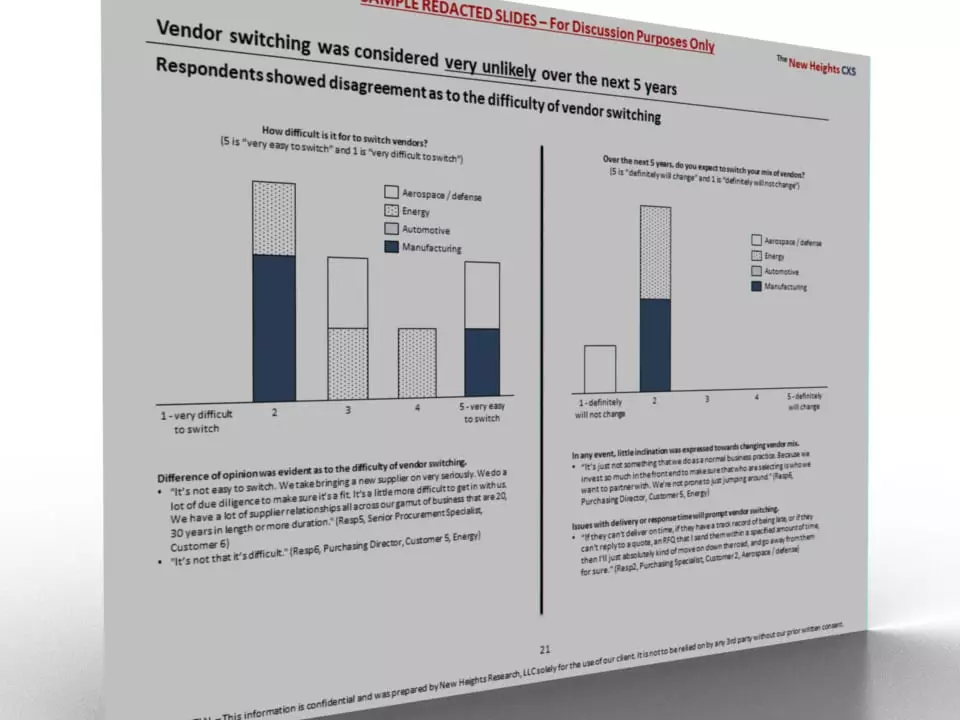 A customer may be satisfied with your company. They may even recommend your company to a friend. But what is the likelihood that your customers will remain your customers in the future?
New Heights calls this phenomenon "stickiness:" the degree of endurance in your customer relationships, in markets often filled with competitive options.
New Heights breaks stickiness into 2 dimensions. The first is ease of switching. Is there something about your product or service that makes it difficult to switch to a competitor's? Are there obstacles to choosing a competitor's product, or is switching as easy as grabbing a Coke out of a refrigerator case instead of a Pepsi?
The second dimension is likelihood of switching. Are your customers satisfied enough not to shop around, or they actively looking at options?
Taken together, ease and likelihood of switching create a reliable snapshot for how stable your customer relationships are today-- and if they may stay that way tomorrow.
Your company's Net Promoter Score, simplified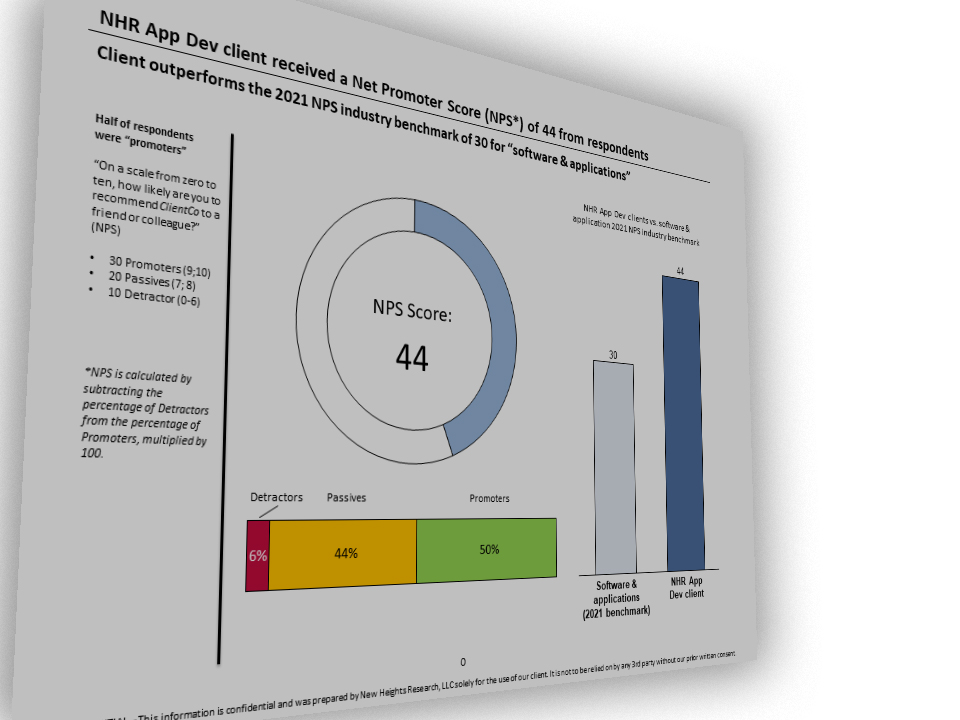 Management and marketers alike have come to rely on the Net Promoter Score (NPS) as the "one number" that captures performance and customer loyalty. The CXS captures and displays the relevant dimensions of NPS in an easy to understand way.
Your customers want to be listened to.
The CXS process may improve the quality of your customer relationships just by doing it. Respondents often comment that they appreciate when a vendor takes the time to listen to them, improve their service to them, and to pay attention to what they think is important. Engaging in straight-talk with your customers through the CXS platform can be a way to differentiate your company from the competition as one that values its customers and appreciates their needs.
New Heights are experts in facilitating this process.