As the number of unsupervised/lone workers rises, safeguards for their protection may offer opportunities for investors.
What we did:
New Heights conducted web surveys and phone interviews with 150+ key decision makers regarding their organizations' lone worker safety solutions (LWSS) and practices.
What we found:
Employer awareness of LWSS is low, and the market is nascent. Meanwhile, the number of US lone workers continues rise.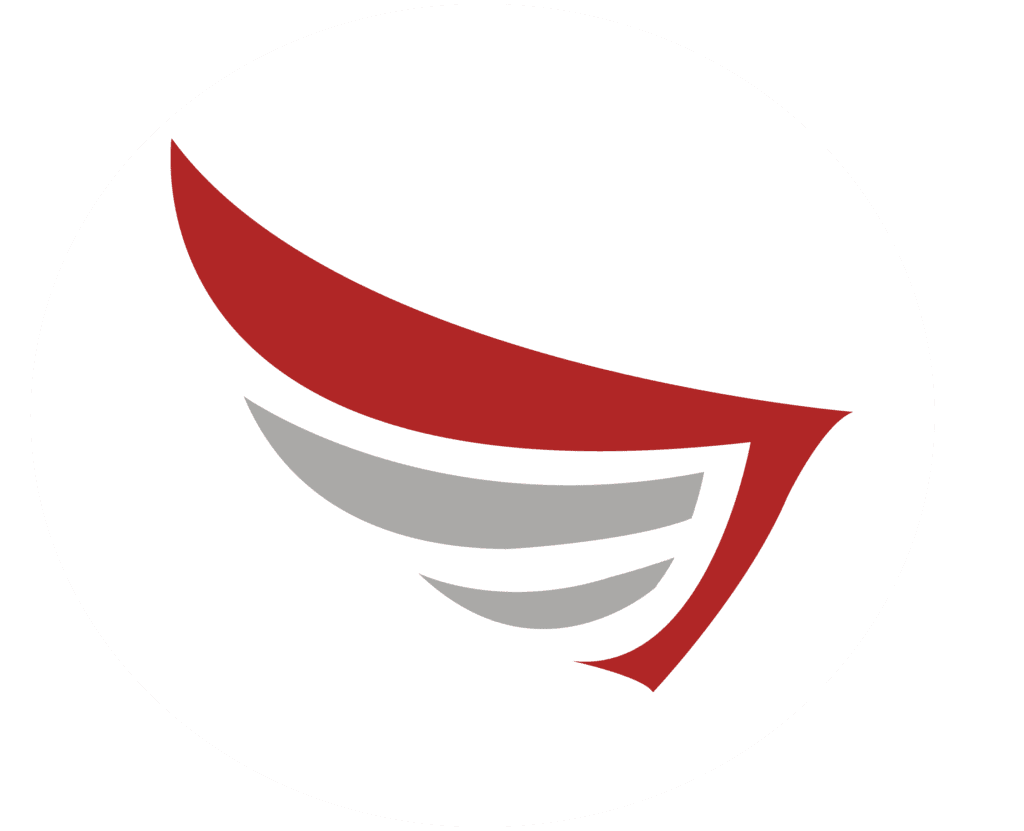 A "lone worker" is any employee that works for long periods outside of sight or earshot of others– and who may face risks from being alone.
Lone workers include home health aids performing direct patient care, utility workers caring for field infrastructure, late night clerks and retail staff, custodial and housekeeping employees, or real estate agents alone at properties. Because of their isolation, these workers could face elevated dangers in the event of emergencies. Those dangers include injury, accident, or even crime.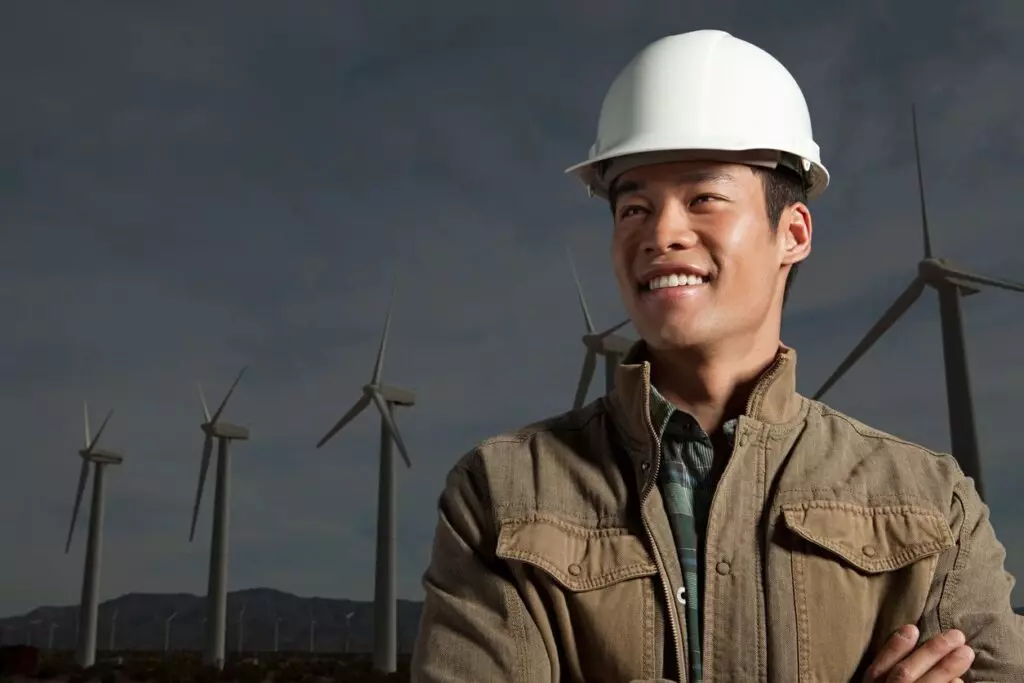 Lone worker safety solutions (LWSS) are emergency alert devices built for the needs of isolated workers.
In many cases, just having access to a mobile phone is not enough to ensure lone worker safety. A remote worker may have poor cellular signal coverage. She or he may be injured and unable to call for help. In the event of a tense human situation, reaching for a phone could cause a dangerous escalation.
To address these unique needs, lone worker safety solutions (LWSS) have been developed. LWSS devices are a combination of wearable tech and mobile apps, purpose-built to alert responders to emergencies. Some contain fall detection or impact sensors. Others feature software or wearable "panic buttons," which can easily or discretely summon help. Many feature round-the-clock, real-time monitoring by call centers.
The UK and Canada have already mandated the use of LWSS in many cases. Today, legislators in the US have begun to recognize the importance of LWSS as well. California and Illinois have passed statues for the protection of lone workers in healthcare and hospitality, respectively. These laws specify the use of dedicated LWSS systems. Similarly, the US House of Representatives passed The Workplace Violence Prevention for Health Care and Social Service Workers Act in late 2019. The Act (presently in Senate committee) mandates "personal alarm devices" for lone workers.
New Heights estimates that there are about 19-20 million mobile/lone workers in the US, today.
At least 1.1 million lone workers are found in home healthcare and energy/utilities, alone.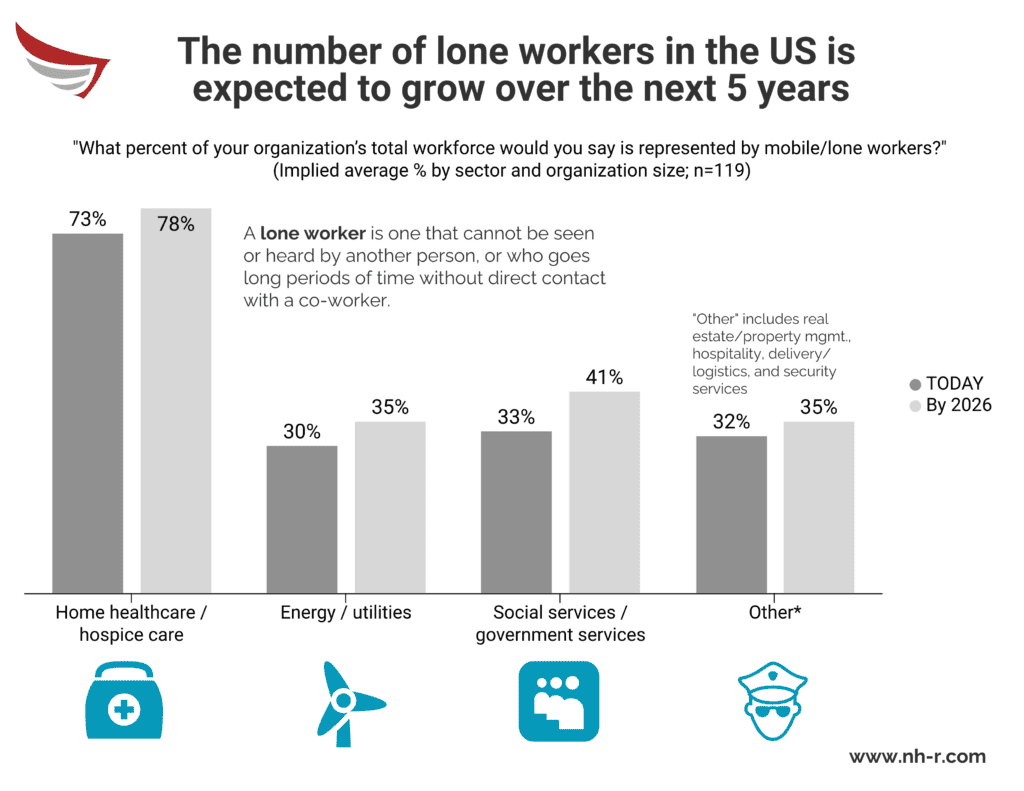 NHR's survey responses suggest that most (>65%) home healthcare and hospice care employees are mobile/lone workers. Nearly a third of utilities employees qualify as lone workers, as well. Respondents uniformly expect the proportion of lone workers in their industries to grow over the next five years.
Despite momentum gathering behind lone worker safety solutions adoption, current penetration into the market is still modest.
When asked about their lone worker safety policies and use of LWSS technology, many participants were unaware of the LWSS options available. Some described attempting to use a substitute such as workforce tracking software, or even simple walkie-talkies. New Heights estimates genuine LWSS penetration to be at 5-20%, depending on the industry sector.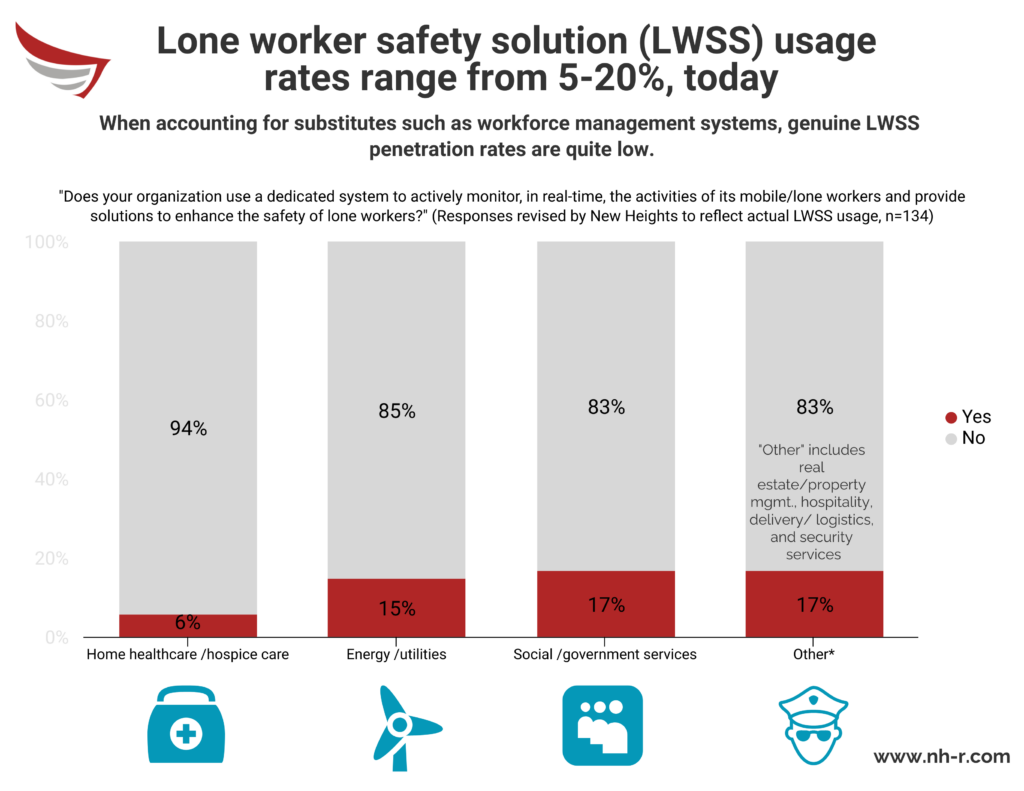 New Heights expects the LWSS industry to grow at 15-20% per year in the US, through 2025.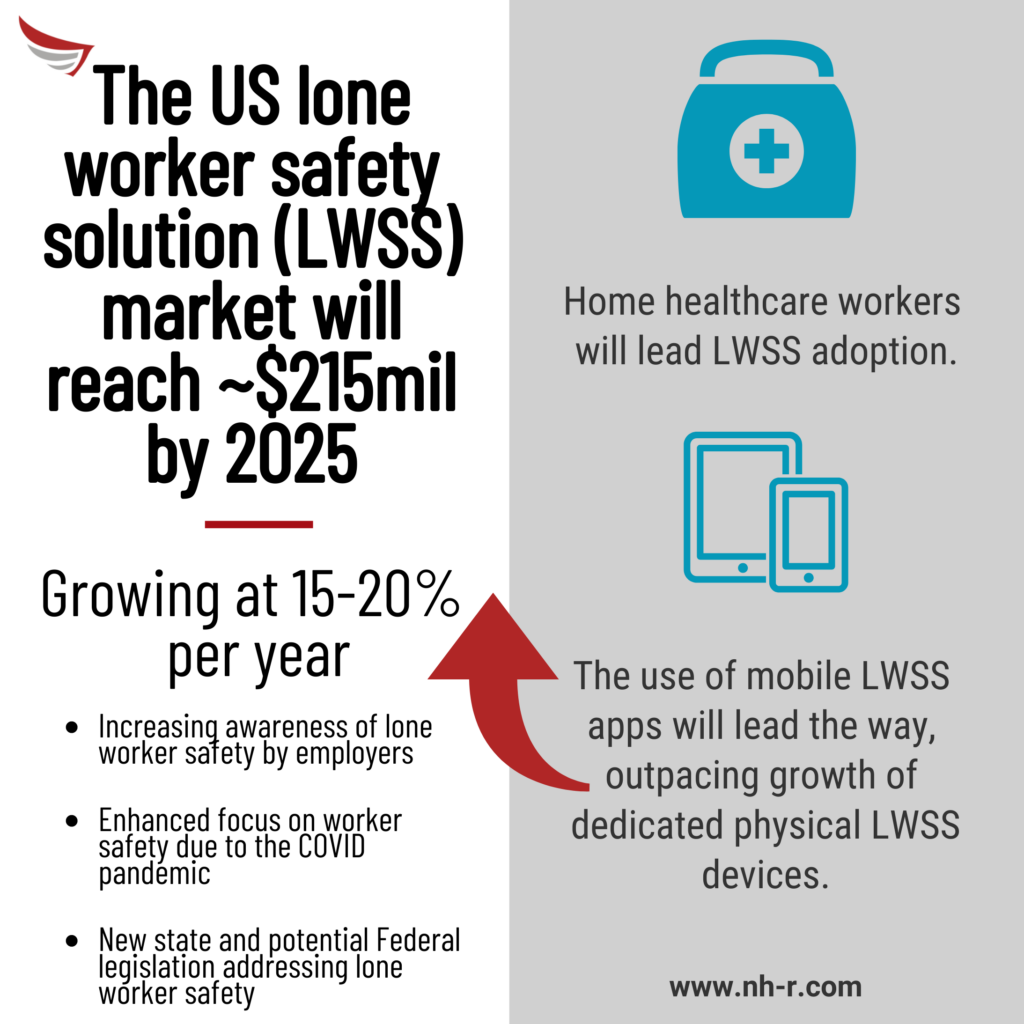 With utilities and government services markets acting as "early adopters," LWSS is primed to grow into the home health care space.
Please feel free to contact us with any questions about opportunities in the growing lone worker protection system space.