America's West South Central Region may become a particular hot-spot
What we did:
NHR interviewed a diverse group of stakeholders and experts in the road construction and highway maintenance industries, over June and July, 2019. These ranged from roadbuilders, to streetsweepers, to planners at the federal and state levels.
What we found:
The road construction trades and their adjacencies eagerly await the passage of a federal infrastructure bill– particularly to address the condition of the nation's highways.
With the Fixing America's Surface Transportation Act ("FAST" Act) set to expire in September of next year, the question of funding for highway infrastructure was an urgent concern. "There is a lot of work that needs to be done on the country's infrastructure," remarked one expert. "If there was ever a bill passed at the federal level that provides money for the states to do this kind of stuff, you're going to see a lot more [construction] work out there. As it stands, infrastructure is a disaster." Put another way, the absence of a federal infrastructure bill seems to have contributed to a backlog of needed road maintenance work.
Presently, more than 19% of the USA's Federal Highways stand in need of resurfacing or repair.
Data compiled by the American Road & Transportation Builders Association (ARTBA) from Federal Highway Administration surveys identify nearly 200,000 miles of American highway requiring "resurfacing or repair." About 25% of these highway miles are concentrated in the West South Central region (Arkansas, Louisiana, Oklahoma, & Texas). Texas leads the nation in highway miles in need of repair, with almost 35,000 miles waiting to be addressed. High concentrations of roads with unacceptable ride quality were also found in the Pacific (Alaska, California, Hawaii, Oregon, & Washington) and East North Central (Illinois, Indiana, Michigan, Ohio, & Wisconsin) regions.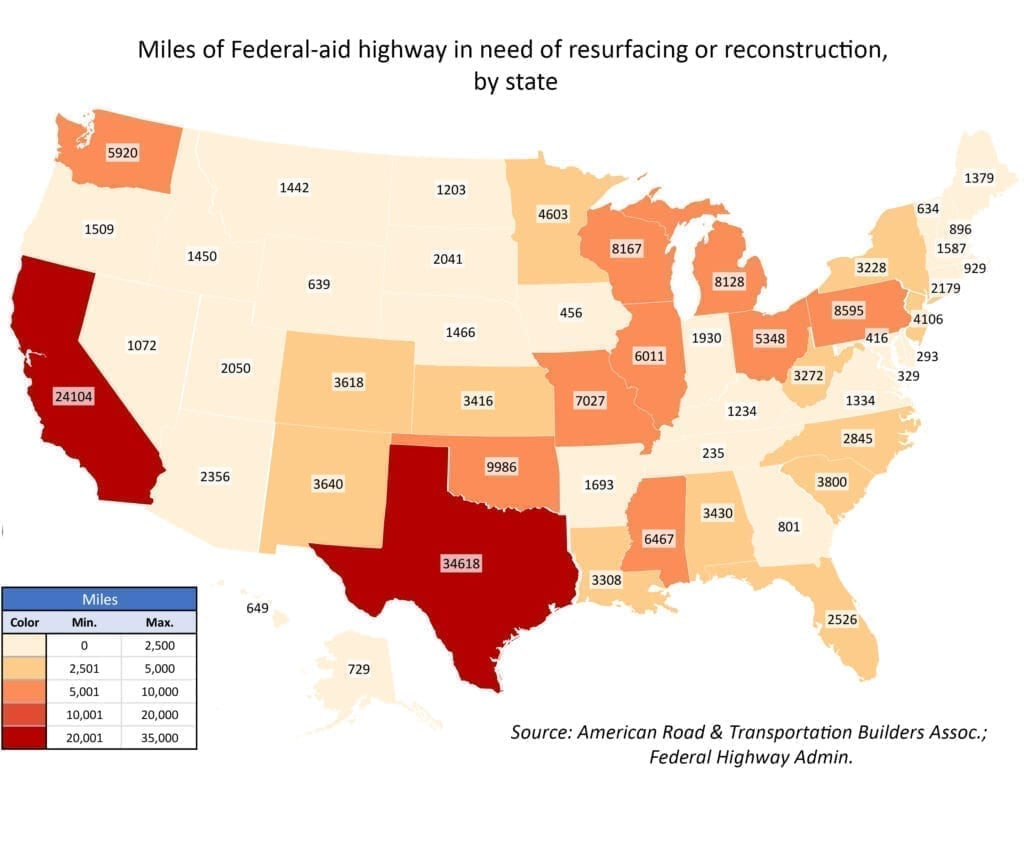 A funding source to address this backlog of demand may be coming.
America's Transportation Infrastructure Act (ATIA) of 2019 (S.2302) was placed onto the Senate's legislative calendar on August 1st, 2019. Described by the Sen. John Barrasso as "the most substantial highway legislation in history," the bill would authorize $259 billion in funds for the renovation of highways and bridges, if approved by the Senate. ARTBA's President & CEO Dave Bauer noted in a statement, "The Senate proposal represents the first program reauthorization bill in nearly 15 years that would significantly increase federal investment in highway safety and mobility improvements."
For those investors who know where to look, attractive investment opportunities are taking shape all along the road and highway construction value chain.
We hope you found this post an insightful read and encourage you to comment below and/or reach out to New Heights to learn more. Also, follow us on Twitter and LinkedIn to stay up to date.